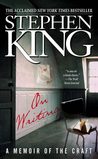 On Writing: A Memoir of the Craft by Stephen King
My rating: 5 of 5 stars
An excellent, if unconventional, guide for writers looking to improve their craft.
I'd been recommended this book by multiple friends and other authors, especially since my work leans into the horror genre. I'm a big fan of King's style, and I approached "On Writing" with an open mind knowing this wasn't a conventional "How To" guide. King's easy manner and tone is what makes this book a winner. It feels more like you're reading a letter from a friend than having sets of rules dictated at you. Some might find it a bit frustrating picking out the technique tips amidst the storytelling, but fair warning that it has the word "memoir" right in the title.
While I didn't agree 100% with all of his advice (part of me thinks his style works for him due to his gifted abilities as a writer) there are lots of gems to unearth in this book. For example, the pre/post-edit work in the back gives great insight on being concise.
I'd recommend this to beginning writers or those brushing up on their chops who have the time to read an entertaining (and admittedly biased) tome of advice. If you're looking for a technique guide that you can easily navigate using a glossary, this isn't that book.